The AGD Picks up the Fight on Oral Cancer:
AGD invites Eric Statler and sets up an oral cancer screening clinic
at the 2014 Annual Meeting in Detroit
Eric Statler, a Stage IV Oral Cancer Survivor, Increases Awareness
of this Deadly Disease
Top Quality CE at ADG Annual Meeting 2014:
Dr. Carl Misch, Dr. John Kois, and Fellowship Review
Fellowship, One of the Cornerstones of AGD Membership, Is Always a
Treat at the AGD Annual Meeting
CAGD Congratulates Fellowship and Mastership Awardees
during Caucus Lunch Meeting
Regional Director and Trustee Honored by CAGD
CAGD Upcoming Fall Meeting in November: Bone Grafting and Ridge
Preservation by Mike Chen, DMD, DICOI
The AGD Picks up the Fight on Oral Cancer:
AGD invites Eric Statler and sets up an oral cancer screening clinic
at the Annual Meeting in Detroit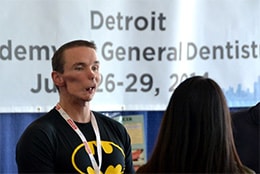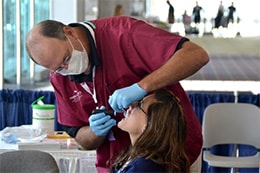 To increase awareness of the deadly oral cancer, the AGD invited Eric Statler, a stage IV oral cancer survivor and advocate, to speak to the House of Delegates at the AGD annual meeting in Detroit. Eric shared a video that he hopes will increase oral cancer awareness:
The AGD also set up an oral cancer screening clinic where volunteer dentists performed screening on their fellow colleagues and public. More than 20 volunteers screened 136 patients for signs and symptoms of oral cancer.
Eric Statler, a Stage IV Oral Cancer Survivor, Increases Awareness
of this Deadly Disease
If you ever see Eric, make sure you meet him. Eric Statler is the greatest example of turning one of the most challenging experiences in life into positive action. A stage IV oral cancer survivor and one of the rare advocates of this deadly disease, he is committed to increasing awareness of oral cancer.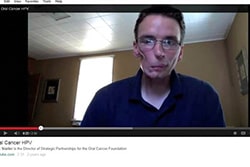 I had the chance to briefly chat with Eric for a couple of minutes at the oral cancer screening clinic at the AGD Annual Meeting in Detroit, but the real treats were delightful coincidences later on. After the convention, I sat next to Eric on the airport shuttle and bumped into him again at the airline gate. We sat in a restaurant and talked about his experience and vision for oral cancer awareness.
As the waitress approached us, Eric mentioned how he has to blend his food and was wondering what to order. French fries seemed the most reasonable option for both of us.
Eric expressed how he initially had bad feelings towards dentistry being disfigured and having poor quality of life; early detection would have helped him eat solid food. But with his hotel management background, Eric is a problem solver: "If I am going to harbor bad feelings about this, and if I am going to complain about it, I might as well put myself into action and fix it." Eric then explained how he started his journey as an oral cancer advocate.
"It all started 7 years ago when I had my wisdom teeth removed. At that time, some form of dysplasia was noted, but was not acted upon, and extraoral cancer screening was not performed," said Eric. Four months later, Eric developed facial swelling and lymph node enlargement below his right jaw. He was diagnosed with metastatic squamous cell carcinoma in the retromolar area of his right mandible. His treatment included chemotherapy and radiotherapy for 7 weeks, and then surgery. During surgery, his right mandible was completely removed along with 40 lymph nodes from his neck, and his jaw was reconstructed with a fibula free flap. He also had a feeding tube for the first 2 years.
When the waitress brought our food, Eric took his first bite and, with mixed feelings in his eyes, said, "I forgot how good French fries taste!"
"Oral cancer survivors typically do not go out. It took me 2 years to go out in public after my disfigurement, and I am a social person," Eric contributed the lack of survivors advocating oral cancer awareness, when compared to other cancers, mostly due to low survival rates, disfigurement and disability.
Eric co-founded oralcancerwalk.org and has helped organize walks in Seattle, Boston, Houston, and Boise. The events he's been a part of have raised more than $250,000 and were donated to the oral cancer foundation. He is looking forward to organizing more of these walks, and events in major US cities.
"Dentistry has the tools, but needs the awareness. General dentists are at the tip of the spear of diagnosing oral cancer. If the AGD sets the example, we will see a drastic change in survival rates," Eric explained why he was very excited as well as very appreciative of the opportunity to be at the AGD Annual Meeting.
Eric was only able to eat less than 10% of his French fries. "That is all the solid food I can eat," said Eric.
A husband and a father to 2 boys, now 10 and 14 years old, Eric's family's support was key to his survival. Although he is committed to oral cancer advocacy, taking time away from his family and traveling regularly is not easy for him. He was looking forward to reuniting with his family after the AGD Annual Meeting.

Top Quality CE at AGD Annual Meeting 2014:
Dr. Carl Misch, Dr. John Kois, and Fellowship Award Review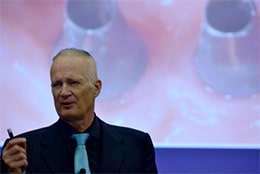 It was a privilege to hear from world renowned speakers such as Dr. Carl Misch and Dr. John Kois at the annual AGD convention in Detroit.
With Dr. Misch's 30 years experience in implant dentistry — you name it: clinical, research, academic, publication, etc. — you understood the biomechanics of implants like you had never before.
As Dr. Kois explained the periodontal, biomechanical, functional and dentofacial risk assessment models, his emphasis on deliberate practice was outstanding. "You can do whatever you want, you just need to practice and it has to be deliberate!" said Dr. Kois.

The Fellowship Award Review was given by members of the US Air Force, Army, Navy and Coast Guard – Constituents of Region 17. This fast-paced yet comprehensive review, with its punctuality and detailed handouts, was a perfect mix tailored towards the preparation for the Fellowship exam.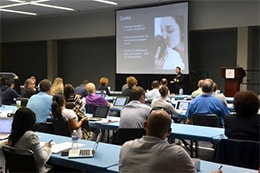 Fellowship, One of the Cornerstones of AGD Membership, Is Always a
Treat at the AGD Annual Meeting
Fellowship at the President's Reception was a great way to meet the leaders of the AGD in a very relaxed environment.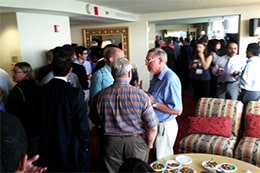 After CE courses and governance meetings, fellowship with friends should not be missed.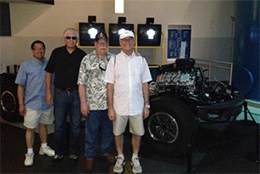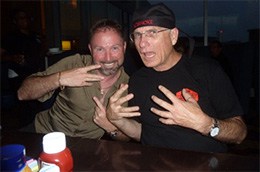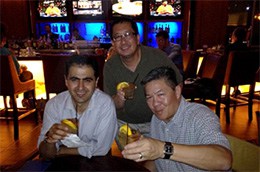 Mark your calendars now; let us show what a great convention Californians throw on June 18-21, 2015 in San Francisco.

CAGD Congratulates Fellowship and Mastership Awardees during Caucus Lunch Meeting
Fellowship and Mastership Awardees were welcomed and congratulated by CAGD president Dr. Tim Verceles (left). The brief self-introductions by all attendees speak of the personal relationships AGD members enjoy.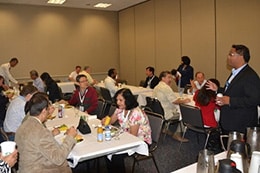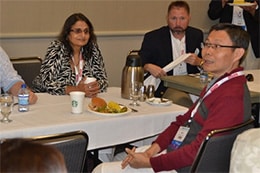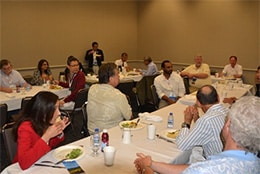 Regional Director and Trustee Honored by CAGD for Their Services
The Regional Director represents the AGD to local members, assisting the California AGD constituent with its various activities. The Regional Director also represents the concerns of the California AGD constituent to the AGD.
The Trustee is a member of the AGD Board representing the California AGD constituent on the AGD Board. The AGD Board governs all AGD activities and operations between the House of Delegates meetings.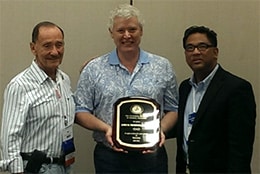 CAGD Upcoming Fall Meeting in November: Fundamentals of Bone
Grafting and Ridge Preservation for General Practitioners by Mike Chen,
DMD, DICOI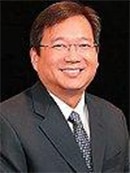 Join us with Dr. Mike Chen — a leading practitioner, teacher and lecturer on
implant dentistry with over 20 years of experience providing dental care,
diagnosis, treatment and advanced implant procedures with over 10,000
implant surgeries performed.
During this course, you will develop a better understanding for:
Socket and ridge preservation
Fundamental clinical grafting protocol
Different types of ridge defects and bone regeneration techniques
Saturday, November 15, 2014, 8am to 5pm, 8 CE Units, in South San Francisco
Free Parking, Continental Breakfast and a Fabulous Buffet Lunch Included
Clck here for Event Details and Registration.