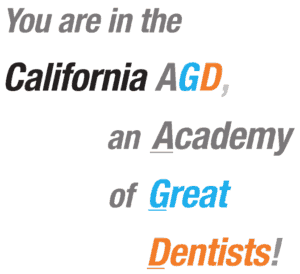 AGD dentists are some of the greatest, innovative and committed colleagues I have met. They are always on the lookout for opportunities to help their patients and thrive, never giving up when these opportunities are challenged.
"Anything can be learned" must have been the timeless concept on the minds of the AGD founders during the inception of the AGD. Whether the goal is to improve our skills or to provide new services to help our patients – and at the same time enjoy the rewards of professional fulfillment and financial security – we know that the AGD provides the continuing education exclusively tailored toward the needs of the general dentist and backed by AGD's reputable PACE Approval. AGD colleagues are also willing to share their knowledge unconditionally and mentor even their next door neighbors. All we have to do is just ask!
However, all the knowledge and skills we obtain by continuing education is meaningful only if it is utilized, and only through our advocacy efforts can the right to utilize them be secured. The AGD has always been an advocate exclusively on behalf of general dentists, their patients and the profession of dentistry. Advocacy has become a main pillar of the AGD's mission to ensure that the voice of general dentists is effectively heard.
I have come to admire many other attributes of the AGD. The camaraderie and the humility that accompany our convictions are so inclusive and welcoming. We urge you to constantly extend these gifts to your local community. General dentists are the gate keepers of oral health! They are the local champions who partner with dental specialists and medical professionals to advocate and care for their patients. It is our responsibility to reach out and bridge these communities, not necessarily vice versa.
We are proud of you. You are a member of the California Academy of General Dentistry, an Academy of Great Dentists! Never stop being the great dentist you are destined to be. Your patients also deserve to know your commitment to their oral health. Our organization offers two prestigious awards: the Fellowship and Mastership. Why not pursue them and distinguish yourself. Especially if you have already completed the continuing education requirement and qualify for the Fellowship award. Prepare for and take the Fellowship examination and get recognized. You deserve it!
On behalf of the California AGD, I thank you for your continuing support and for giving us the opportunity to represent you.
We are here to support YOU and we strive to be your champions. Do not hesitate to reach out to us.
Samer S. Alassaad, DDS, FAGD