Socket Preservation & Bone Grafting Materials
A Case Report by Alan Golshanara D.D.S., M.A.G.D., F.I.C.O.I.
The following case report focuses on a technique that maximizes anterior esthetic results by creating an ideal emergence profile utilizing proper socket preservation.
Diagnosis and Treatment Planning
A 48-year old patient presented with a vertical root fracture on tooth #8, which was previously endodontically treated and had a full coverage crown restoration (Fig. 1). The soft tissue form around tooth #8 was ideal, periodontal probing indicated normal attachment levels on both teeth #8 and #9. A treatment plan was proposed to replace tooth #8 with an implant-supported restoration (Fig. 2). The removal of the crown restoration revealed the crack and confirmed the diagnosis (Fig. 3,4).

Extraction
In an effort to maximize the esthetic result and to preserve the ridge, extraction of tooth #8 was accomplished without flap elevation. A periotome was used to sever the periodontal ligament fibers by extending 3-4 mm beyond the socket margins on the facial and palatal aspects of the socket. Then a forceps were used to gently rotate tooth #8 out of the socket to minimize trauma to the alvelor bone. A bone curette was used to remove any soft residual tissue from the socket walls, along with copious irrigation and aspiration, especially at the apial extent of the socket since this tooth was treated endodontically (Fig. 5-8).

Bone Grafting
A resorbable collagen membrane – Copios® Pericardium Membrane – was placed on the labial wall extending 4-5 mm apically and interproximally into the interdental papilla (Fig. 9,10). Then a particulate bone graft material – Puros® Cortico-Cancellous Particulate Allograft – was placed into the socket area. Over-packing should be avoided to allow for vascularity into the graft (Fig. 11). Then the membrane was tucked subperiostally under the palatal wall and underneath the interdental papilla using a curette. A 4-O silk suture was placed to further stabilize the membrane (Fig. 12). An Essex temporary retainer was delivered as the temporary restoration.

Post-operative Healing
At 4 week post-operative visit, dense vascular connective tissue was seen in the socket (Fig. 13). At 8 weeks, there was keratinized gingival forming over the socket area (Fig. 14). Note the natural position of the gingival margin and the interdental papilla (Fig. 14). Complete radiographic bone healing within the socket was seen at 14 weeks post-op (Fig. 15). Excellent soft tissue appearance and emergence profile was created (Fig. 16).


Dr. Golshanara is in private practice in Fair Oaks, California. He can be reached at: [email protected]
Editor's Message: The GP NewsFlash is now accepting clinical briefs for publication. Click here to check the guidelines to clinical briefs and submit your clinical brief or any question you may have to: [email protected]
Strategies for Opportunities in Interesting Times
Michael Lew, DMD, MAGD
In January of 2014 our country will engage in a seismic shift in the business of healthcare. No matter what your opinion of "Obamacare" is, it will affect all of our lives directly and indirectly. Obamacare will directly impact our profession with the funding of pediatric dentistry. Indirectly, it is part of a larger tsunami of social and political changes that have been developing over the past twenty years, including the expansion of corporate dentistry and medical/dental clinics. There will also be a continued trend toward less funding by third party payers.
Assuming that your strategy for success includes participation in third-party payer plans, then the tactics may include:
Develop a practice that is more efficient with a focus on those procedures funded by the third party payer. The third-party payers would have dentistry as a commodity. This may mean eliminating procedures which cannot be performed profitably or finding techniques to perform these profitably. For example, if molar endodontics require three hours to complete with a revenue of $300.00, but the hourly expense for the patient to occupy that chair is $150/hour, then you cannot offer molar endodontics unless something changes. Rotary endodontics, digital radiography, standardization and staff training have tremendously improved efficiencies. YOU MUST COMMIT to change, things will not get better by themselves.
Participate in the plans as a marketing program, knowing that these plans are a source of new/returning patients for the practice. Offer additional/alternative services such as implants, cosmetic services and sleep dentistry or sale items where the payers do not dictate the fee. Do not participate in those plans where every service you offer is on the plan's fee schedule.
Upsell your services. Offer "add-on services" such as selling preventive care products (you cannot give away toothbrushes to patients funded by a discount third party payer), cosmetic upgrades to porcelain crowns, or CAD-CAM crowns.
Don't Participate. This option is appealing, and is often discussed with many practice management gurus. But, it is not doable by every practice. This tactic assumes a belief that the public has money for these solutions. To go this direction you must give the patient a concrete reason to choose you over the less expensive alternative. For example: Why stay at a five star hotel instead of a three star hotel. Why pay for a full service broker over a discount broker. Another example would be the creation of a Niche Dental office. Consider what problems you are solving for your patients above and beyond just their dental problems. Can you make your office more convenient? Can multiple dental specialties be offered at one site? Can you solve a patient problem with which dentistry is part of the answer (sleep centers, full cosmetic services, part of a diabetic solution center). Your ideas, imagination, and answers to these questions will help you position your practice for the future.
Dr. Lew will be discussing these topics in his lecture "Success in Dentistry" at the Sacramento-Sierra AGD study club on September 26th, 2013. Click here to register.
Dr. Lew has over 25 years of experience in private practice. In 2008, he joined the State of California as a public health dentist joining 300 other dentists in a large group practice. He is familiar with high-end cosmetic/implant reconstruction dentistry in solo and group private practices as well as DHMO dentistry in large group public health practice. Dr. Lew has held many ranks in organized dentistry; he is currently the Regional Director representing California to the Academy of General Dentistry. He has also participated in Strategic Planning for the CDA, the AGD, the Dental Board, and the CAGD.
Congratulations to the California AGD for Winning the
AGD Advocacy Award for 2013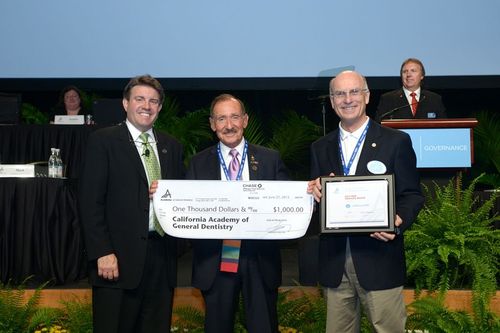 California AGD President, Dr. Guy Acheson (far right), and Dr. Mike Bromberg (center) accept the Advocacy Award from AGD National President, Dr. Jeffrey Cole (far left).
AGD Headline News – from AGD.org
AGD Hosted Annual Meeting in Nashville
More than 2,000 attendees tuned up their CE and more than 150 exhibitors showcased the latest developments in dentistry in Tennessee during the AGD 2013 Annual Meeting & Exhibits, which took place from June 27 to 30. Check Nashville2013 for a meeting recap.
Class of 2013 Honored at Convocation
More than 300 Fellows, Masters, and Lifelong Learning and Service Recognition recipients were honored during the AGD 2013 Convocation Ceremony on Saturday, June 29.
All Roads Lead to Detroit
Mark your calendar now for the AGD 2014 Annual Meeting & Exhibits, which will take place from June 26 to 29, 2014, in Detroit. Visit www.agd.org/detroit2014 for more information, and get ready to rev up your education with high-octane CE!
General Dentistry Studies Make Headlines
Research published in the March/April and May/June 2013 issues of General Dentistry recently garnered national media attention:
Bassiouny MA. Dental erosion due to abuse of illicit drugs and acidic carbonated beverages. Gen Dent. 2013 Mar-Apr;61(2):38-44.
Telgi RL, Yadav V, Telgi CR, Boppana N. In vivo dental plaque pH after consumption of dairy products. Gen Dent. 2013 May-Jun;61(3):56-9.