Avoiding and Managing Implant Surgical and Restorative Complications
September 28 @ 8:00 am

-

5:00 pm
Save the Date
You learned how to place and restore implants, but are you ready to prevent and manage any complications?
Details
8 CE Units
Speaker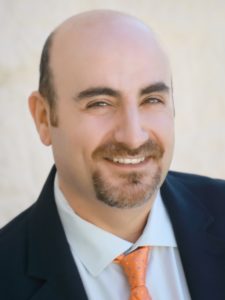 Louie Al-Faraje, DDS
Diplomate, American Board of Oral Implantology
Diplomate, International Congress of Oral Implantologists
Fellow, American Academy of Implant Dentistry
A highly experienced clinician, educator and innovator, Dr. Louie Al-Faraje is continually advancing the protocols for oral implantology surgical treatments. He is a board-certified, practicing oral implantologist in San Diego California, as well as an author and educator, who presented hundreds of lectures and trained hundreds of dentists throughout the world.
His global California Implant Institute in San Diego utilizes today's most innovative and effective clinical solutions in dental implants and bone grafting procedures and has trained more than 2000 oral health professionals from 20+ countries in the last 15 years.
He is the author of a bestseller textbook "Surgical Complications in Oral Implantology" published by Quintessence 2011 and available in 7 languages. He also authored the "Oral Implantology Surgical Procedures Checklist", "Surgical and Radiologic Anatomy for Oral Implantology",  and "Oral Implantlogy Review", published by Quintessence. Dr Al-Faraje also serves on the editorial board of the journal of Oral Implantology (JOI). 
Course description:
Implant treatment is becoming very common in general dental practices and patients are demanding it. With the increase in implant treatment, an increase in failure and complication is also evident. Early detection of complications that are amenable to rescue therapies may reverse the fate of a failing implant or a bone-grafting procedure. This program will present the diagnosis, management, and prevention of surgery-related complications in implant dentistry as well as the most frequent prosthetic-related complications in a practical and clinically relevant manner for the general dentist.
Objectives:
Learn a comprehensive protocol that allows for the early detection of potential implant surgical complications and how to avoid them

Know how to manage implant complications in an emergency setting

Learn an implant treatment protocol from the initial consultation and treatment planning through the restorative phase
Some of the prevention and management topics to be discussed:
Overheating the bone during drilling

Stripping the implant site

Compression necrosis

Bleeding

Incision line reopening

Tissue emphysema induced by dental procedures

Unstable implants

Mandibular bone fracture

Deep implant placement

Nerve injury

Sinus floor perforation

Nasal floor perforation

Curved extraction socket
Osteoradionecrosis
Incorrect implant angulation
Implant-oriented occlusion
Inadequate or excessive vertical and horizontal restorative space