CAGD: Platelet-Rich Fibrin/Platelet-Rich Plasma Dental Course
January 28 @ 8:00 am

-

5:00 pm

$400 – $900

Summary:
Speaker: Robert J. Miller DDS, FACD, DABOI
Sponsored by: BioHorizons

CE: 8 participation
AGD subject code: 690 (Implants)
Tuition:
AGD members: $500
Non-members: $900
Course Description:
Indications and usage of PRP/PRF in grafting and implant dentistry.Hands-on course involving venipuncture/phlebotomy and use of the centrifuge.
Course Objectives:
Enhance your bone grafting results by using L-PRF (Leukocyte-and Platelet-Rich Fibrin).
Clinically, L-PRF is an outstanding material to work with as it is resilient, strong, supple and pliable. It is also easy to manipulate, place and suture. When formed, it can be trimmed to proper size for placement into specific anatomical sites.
L-PRF is an ideal carrier for bone material. When incorporated into the fibrin clot, the particulate biomaterial is suspended in the fibrin matrix. This dramatically enhances the handling characteristics of the graft.
Periodontists, Oral and Maxillofacial Surgeons, Prosthodontists and General
Practitioners placing implants have all praised the clinical efficacy of L-PRF when used for the treatment of ridge defects, extraction sockets, sinus grafts and extraction/immediate implant placement.
Speaker Bio:
Dr. Miller received his B.A. from New York University and M.A. from Hofstra University, both in biology. He graduated with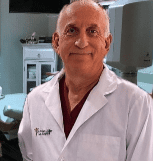 honors from New York University College of Dentistry in 1981 where he received the International College of Dentists Award for clinical excellence and then completed his residency at Flushing Medical Center in New York City. Dr. Miller is a Fellow American College of Dentists, Board Certified Diplomate of the American Board of Oral Implantology, Honored Fellow of the American Academy of Implant Dentistry, Diplomate International Congress of Oral Implantologists, Fellow Academy of Osseointegration, and is the acting Chairman of the Department of Oral Implantology at the Atlantic Coast Dental Research Clinic in Palm Beach, Florida. He is Director of The Center for Advanced Aesthetic and Implant Dentistry in Delray Beach, Florida, and Co-Director of the Pacific Institute for Advanced Dental Education. Dr, Miller has a full-time practice dedicated to Implant Dentistry and revision surgery and has an active international lecture schedule as well as being engaged in biomaterial, laser, and implant research.
     Refund and Cancellation:
If you are NOT an AGD member and register as one, you'll need to re-register as a Non-Member to get into any California AGD courses. If your AGD Membership has expired, you can renew here: https://www.agd.org/join-agd/online-application
Registrations are subject to a $50 non-refundable processing fee.
Cancellations made by email prior to 1/7/23 will receive a refund less the $50 processing fee.
Cancellations made after 1/7/23 are completely non-refundable.
Transfer of a registration to another name will be considered by email request through 1/7/23.
By registering and attending this event you are giving permission to be in a photograph/video of the event unless you ask not to. Click here for the full details of our photo/video policy.  
https://caagd.org/cagd-photo-video-disclaimer/
Registration:
Book a hotel at the special group rate of $169/ night here. Last day to book a room is Thursday, January 12, 2023
San Francisco Airport Marriott Waterfront