CAGD Fall Meeting: Groundbreaking Advancement in 3D Endodontics and New Technologies
September 26 @ 8:00 am

-

5:00 pm

$99 – $299

Details:
Date: Saturday, September 26th, 2020
Time: 8am to 5pm (registration and breakfast open @ 7am)
CE: 8 Lecture CE Units (AGD Subject Code 070)
Speaker: Dr. David Kelliny
Tuition:
$129 for AGD/Delta members, $299 for non-members (Your registration includes Continental breakfast, AM break, lunch, PM break)
OR Attend via live Streaming:
$99 for AGD/Delta members, $199 for non-members (Your registration includes live streaming with speaker audio and course content (slides/demos). *Limited to the first 60 registrants
Location: San Francisco Airport Marriott Waterfront
1800 Old Bayshore Hwy
Burlingame, CA 94010
Course description:
Endodontics has seen significant technological advances in the last few years, enhancing the precision and predictability of treatment. Although endodontic treatment is a predictable modality, certain case limitations may lead to failure. Difficult access, severely calcified canals, difficult and complex internal anatomy and inaccessible surgical sites, can lead to failures or poor to guarded prognosis.

The purpose of this comprehensive course is to introduce new technology and new information related to Guided Access in Endodontics and the Gentle Wave Procedure.

These advancements in digital Endodontics has made such cases predictable and highly successful. It also increases patients' acceptance to treatment. Understanding this technology allows for minimally invasive procedures with lower risks and higher success rates.
Objectives:
Develop a balanced decision process of guided case selection and treatment planning.

Understand the process and limitations of the KEndo access guide and its applications.

Develop an understanding of new advancements in 3D endodontics as related to a New endodontic procedure "The Gentle Wave procedure".
Speaker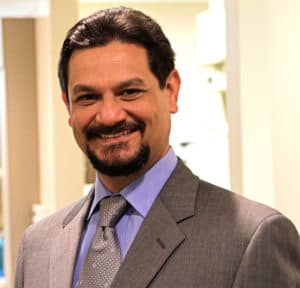 Dr. David Kelliny earned his Bachelors in Dental Surgery from Cairo University in 1992; He graduated with a Doctor of Dental Surgery degree from University of Southern California in 1998 and earned a Certificate in Endodontics also form USC in 2001.
Dr. Kelliny is currently a part time Clinical Assistant Professor at the Herman Ostrow School of dentistry of USC post graduate Endodontic program and has been teaching at USC since 2002; he is involved in teaching and lecturing residents on various aspects of Endodontics with a specific emphasis on Surgical Endodontics, 3D endodontics and Dental Implants.
Dr. Kelliny is a member of the American Dental Association, California Dental Association, Western Los Angeles Dental Society, American Association of Endodontists, American Dental Society Anesthesiology and International Congress of Implantologists.
Lodging:
Book a room at the SF Airport Marriott Waterfront for $179
Registration:
Secure Online Registration is now open, click here to select your tickets (below).
Refund and Cancellation Policy:
Registrations are subject to a $50 non-refundable processing fee.

Cancellations made by email prior to 9/10/20 will receive a refund less the $50 processing fee.

Cancellations made after 9/10/20 are completely non-refundable.

Transfer of a registration to another name will be considered by email request through 9/10/20.
Sponsored by: