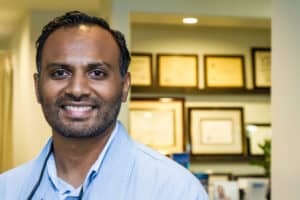 One of my favorite sayings is, "If you are not moving forward, you're moving backward." I'm not sure where I heard it, or who said it. Possibly a 90s rap song. But, this saying has always stuck with me. As a dentist, this rings in my head when I think about how I can be a better dentist. I am a CE junkie—– I love learning new things about dentistry and technology.
Your dental education doesn't end when you graduate from dental school. To me, this is where my education began. There is nothing more humbling than to get into private practice and realize how much you don't know. I was fortunate to have my dad, with whom I work, to help guide me and bail me out on occasion. This is when I realized (read: encouraged) my salvation was to go find high quality continuing education. Being a member of the AGD since dental school, this is where I first turned. And it was easy, because fifteen years ago, there were not a lot of choices on good quality CE.
But, things have changed. If your inbox is like mine, you get at least five to ten emails a day offering low cost, high "value" dental CE. It is tempting and no doubt you will get something out of attending. But, here is where you can fall into a trap; spending way too many hours attending courses and not really getting any- where. We learn some great tips and tricks, but for the most part, return to our office and go back to our comfort zone. Or worse, spend your day off attending an eight-hour infomercial. If I am going to spend time away from my family and from my office, I want it to count. I want to say that I learned something of value that will improve my skills as a dentist, that I am moving forward.
This is why I think the AGD is special. Not just because I am a leader here at the CAGD. On the contrary; I am a leader here, because I believe in what we do.
I recently became a fellow in the AGD. The process of getting my Fellowship in the AGD was great because it justified to me that the 500-plus hours of courses that I took were worth something. It moved me forward. Passing the exam proved to me that I am a better dentist for doing so. For the same reason, I am currently pursuing my Mastership in the AGD (I'm not only a client, I'm the president).
I love this program. Over the course of four years, we are being exposed to some of the greatest minds in dentistry. . . speakers and students. I have made friends and developed relationships that will last a lifetime.
As we start our new year, I encourage all of you to move forward. Not only will it continue to challenge you and re-ignite that spark, but your patients will thank you for being the best dentist that you can possibly be. After all, in the end we are here for that one reason.
Chethan Chetty, DDS, FAGD